Regular price
€1.395,00 EUR
Regular price
Sale price
€1.395,00 EUR
Unit price
per
Sale
Sold out
Dit is een mooie set van mondgeblazen glas helemaal uit 1 geheel.Massief glas niet hol van binnen.Er zitten mooie bruine lampenkappen op de lampen die nog in een perfecte staat zijn.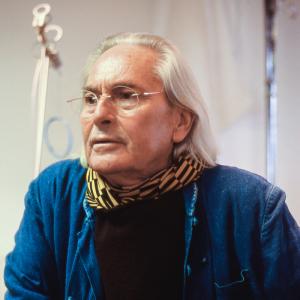 Ingo Maurer, geboren op het eiland Reichenau in het Bodenmeer, Duitsland in 1932, volgde een opleiding tot grafisch ontwerper tussen 1954 en 1958. In 1960 verhuisde hij naar de VS, waar hij drie jaar als freelance ontwerper werkte bij Kaiser Aluminium en IBM. Hij keerde terug naar Duitsland en opende in 1966 Design M in München, een bedrijf dat zich uitsluitend in verlichting specialiseerde. Zijn eerste lichtontwerp, Bulb, uit hetzelfde jaar, was een extra grote lamp van verchroomd metaal en handgeblazen glas, gemaakt voor een installatie in de showroom van Herman Miller in München. In 1973 werd Design M Ingo Maurer Lighting GmbH. Tegenwoordig werkt zijn bedrijf nog steeds vanuit dezelfde ruimte en heeft het ongeveer zestig mensen in dienst. In 2005, toen het zijn productiefaciliteiten ontgroeid was, opende het merk een nieuwe locatie voor productie en verzending in de buitenwijken van München. De voormalige productiehal werd de enige Europese showroom van het merk - de tweede na New York.
Product Specification

| | |
| --- | --- |
| Height: | 200 cm |
| Width: | 60 cm |
| Depth: | 26 cm |
| Condition: | In zeer goede staat |
| Period: | 1940 |
| Country of origin: | Frankrijk |
Shipping

Shipping costs

Small items can be sent by post. We consistently ship our items insured and registered. The costs are from € 10.00.

Transport of large items within the Netherlands is generally arranged by Timeless Art's own delivery service. The costs of this transport depend on the item and distance. Inquire by email about these delivery costs: info@timeless-art.nl

* Our in-house delivery service tries to keep costs as low as possible by combining multiple deliveries to customers! However, because of this, the delivery time may be longer.

We also deliver our products outside the Netherlands. The costs for this transport are on request by mail: info@timeless-art.nl

Items will be shipped when the total amount (including shipping costs) is credited to the Timeless Art bank account. As soon as the money is in the account, the item will be shipped within 5 business days. You can track the package through a tracking & trace code.

We do not just deliver to the door, if possible, and by mutual agreement (elevator available, extra hands for lifting), we deliver the goods to the desired space. Any additional cost will be agreed upon with you in advance.

Returns

If desired, an item can be returned at the customer's expense. This must then be reported immediately upon receipt via email. Returns can be made within 7 days of purchase/receipt of the item, only if the item is in exactly the same condition/condition as received.

Costs incurred for shipping to the customer and/or returning or bringing back items are the buyer's responsibility.
View full details